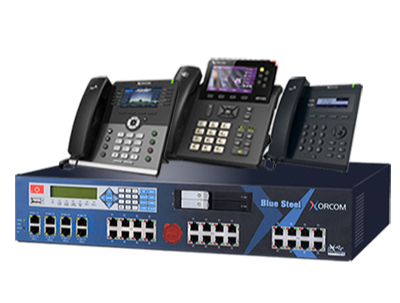 Business Telephony
IP Phone Systems, a popular choice for business communication--reliable on ip network base, link up with provider from anywhere for DID Phone number 
IP Phone Systems is the future of office telephony, all conversation are sent over ip network-- it cover all tradition and includes more advanced communications features, low cost & easy to manage using web interface or console mode. 
You can use existing network cable without rewiring or if you have existing analog phone cable, there is converter to ip telephony to have more rich features of ip based Pabx such as IVR, Voicemail, Call recording, view Call Detail Records over web browser instantly. More over, the voice quality is superb, you can have HD phone call, eliminate vendor lock (using SIP phone) and access from anywhere by smart phone or computer.
What is the right IP Phones for your organization?
Back in early 2000s, the cost of ip phone is very high, it's introduced by main vendor such as Cisco, Avaya, Snom, Polycom, Yealink for enterprise company, call center.
Compatibility: Check with your Hosted Provider or IP Pbx, most of telephone system support SIP standard however, some features may not function well. Check protocol, codec for efficient voice quality and we'd suggest to have PoE support phone which won't required AC oulet, but for sure PoE switch is required too.
Phone Function: There will be difference needs of each user, depend of job position, some user may need a large screen, long list of recent call logs or a quick short cut key phone to frequency contact persons in the office. Or line managers may need the one with two or more sip account which could connect to remote office/oversea group business/partner.
Budget & Lifespan: You get what you pay! the high cost phone from the popular vendor would be great if you have good budget, all above mention brand are perfect to go with but if you have limit budget, you may consider below products, pricing around 50$/pcs to hundreds dollar and we believe the technology is moving very fast even though some of most expensive one also out of date within a short period of time.
Below is some remarkable budget products for small to mid range business with reasonable cost to be consider 

Yealink
Is a global leading provider of unified communication & collaboration solutions. Full end point sip device for your selection to meet your application and system design. It compatible with most of IP Pbx which accessible by SIP protocol.


Fanvil
Fanvil provides VoIP communication devices solutions for small and medium sized businesses, its hotel phone is great, stylist design! 


Grandstream
You can find from entry level to high-end phone or video, conference phone as well as Asterisk based Pbx for small to mid size business company. Both GrandStream phone and pbx come with user friendly interface, easy to operate.